This week I had the pleasure of meeting Debra Escort, Director of Special Projects at Project Find, a nonprofit which helps older persons on the Upper West Side of Manhattan to enrich their lives and live independently. Project Find is the only survivor of a series of demonstration projects started in 1967 by the National Council on Aging to develop a strategy to help the elderly poor. (Find is an acronym for friendless, isolated, needy and disabled).
Project Find currently operates three senior residences for 600 people and four senior centers which serve over 3,000 older persons. I toured a few of the facilities, and found them to be vibrant centers of activity with many classes and activities of all types. Debra has devoted to career to serving this population; I also met Melissa Johnson-Bowen, who is the Director of the Hamilton Senior Center.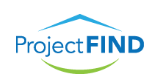 I asked Debra how many of the residents continue to get family visits. Sadly, her response was very few. There is something very wrong with a society where family members don't feel a responsibility to each other. This is also why I always encourage seniors to seek out relationships with people of all ages, not only with those of their generation.
Project Find is not as well known as some of the other senior services organizations I help, but the commitment of their staff and their ability to survive and excel for over 50 years is impressive. I shared with Debra some of the wonderful work with seniors and technology that is currently being done by organizations such as Dorot, Older Adults Technology Services and Selfhelp Community Services (all which I have worked for). I hope to help Debra to plan special events and to provide help in Melissa's computer lab.
If you still think that later life is only about relaxation and withdrawal from life, I encourage you to learn more about Project Find and how they continue to help older people to lead active, engaging lives.